Hey guys,
Short version: I'm inable to get acess to smb shares from a PC in my lan, localhost on the Turris seems to work.
Long version:
I have a Turris Omnia with the NAS perk. It's set up and works fine with Turris OS 4.0.5.
I'm using the equipment from the NAS perk (casing, cables & other equipment) and two SSDs.
I've followed the instructions to set up the NAS from here:
https://wiki.turris.cz/doc/en/howto/nas
The btrfs-raid0 of the 2 SSDs seems to work fine.
lsblk gives (among others):
NAME         MAJ:MIN RM  SIZE RO TYPE MOUNTPOINT
sda            8:0    0  3.7T  0 disk /srv
sdb            8:16   0  3.7T  0 disk

In /srv I have a directory /srv/nas that I want to use as the smb shared directory.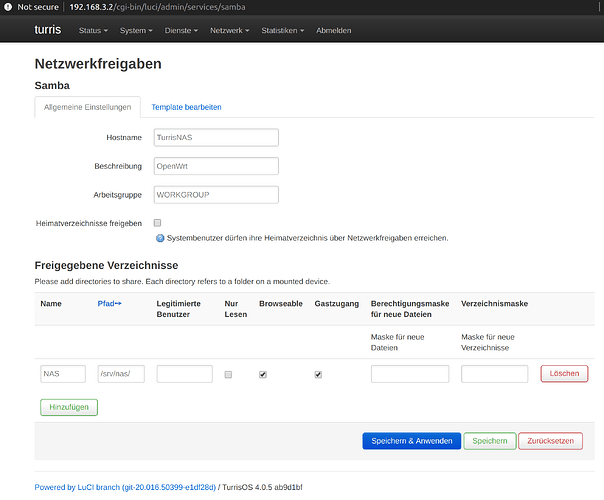 If I ssh into the turris with my user account and "smbclient -L localhost" I receive:
Sharename       Type      Comment
---------       ----      -------
IPC$            IPC       IPC Service (OpenWrt)
NAS             Disk      

Server               Comment
---------            -------

Workgroup            Master
---------            -------

If I do it as root I instead get
tree connect failed: NT code 0xc0000022
So it seems the share is working locally, but here's the catch:
If I try to access it using the IP of my turris (either from the turris itself using ssh or from another PC in my lan), with smbclient -L 192.168.3.2 I instead receive error messages, first from the turris:
Connection to 192.168.3.2 failed (Error NT code 0xc0000236)
And from my regular client PC:
do_connect: Connection to 192.168.3.2 failed (Error NT_STATUS_CONNECTION_REFUSED)
If I try to look up whether the port 139 is opened (sudo nmap -p 139 -sT "192.168.3.2") I get:
Starting Nmap 7.80 ( https://nmap.org ) at 2020-04-30 14:33 CEST
Nmap scan report for 192.168.3.2
Host is up (0.00026s latency).

PORT    STATE  SERVICE
139/tcp closed netbios-ssn
MAC Address: 04:F0:21:23:31:20 (Compex Systems Pte)

Nmap done: 1 IP address (1 host up) scanned in 0.20 seconds

This seems to suggest that the port 139 is closed, which I think it shouldn't be.
I tried to open it in the firewall settings:
Excerpt with the rule from:
cat /etc/config/firewall
config rule
    option target 'ACCEPT'
    option name 'Samba'
    option src 'lan'
    option proto 'tcp'
    option dest_port '137 138 139 445'

However that firewall rule doesn't seem to have any effect. The port is still shown as closed when using nmap.
I spend hours on research for other peoples comments with similar problems and felt like going over every single related samba-troubleshooting-thread on the internet.
But despite how often I restart services or the whole router it doesn't seem to make any difference.
At this point I'm pulling my hairs out. Is there anyone having any idea as to what I can still do and maybe didn't yet try?