I've a Turris Omnia (2GB, first generation). I tried a few things related to moving wifi modules among the PCIe slots and eventually I could not get any longer WAN access to my modem. In Forris/WAN I get the message: "WAN port has no link or it hasn't been configured yet. Your internet connection probably won't work.". I'm using "DHCP (automatic configuration)" and "Disable IPv6". This issue happended under TO4x and I let it rest a while (it was not time critical, since I have two other TO's (one 1st and one 3rd generation) which work fine and I really don't need this "broken" third one).
Nevertheless, in order to make progress on the "broken" one, I now installed TO5.0.0 HBS by using med_kit and the "4 LED" reboot method. TO5.0.0 installation went flawless and the guided Foris set-up process was no problem too.
But still; no WAN access to my modem - same message. Also, here a screen_shot of the LuCI interfaces: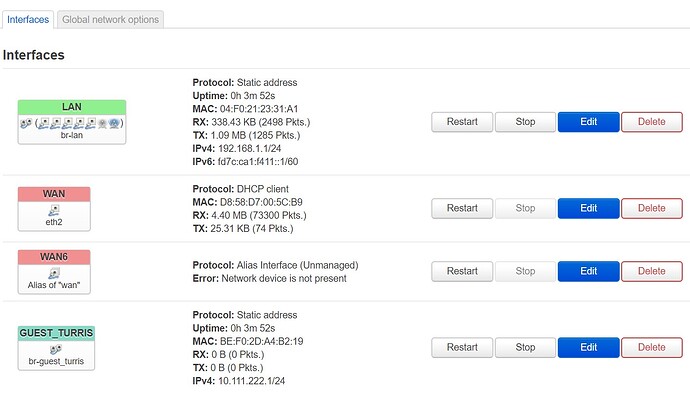 As written, the two other TO's work on the modem with the same configuration just fine. Any idea whether, even after a med_kit clean install, the TO keeps some old configuration which could cause my problem?