Dear Turris users,
We have just released Turris OS 4.0.3 from HBT(Testing) branch to everyone. You should be updated to this version automatically and if you are using approvals, you can check Updater tab to approve it.
This release contains security fixes for libvpx, git, and as well some bug fixes for kernel, tvheadend.
Release notes for this release :
• Merry Christmas!





• kernel: updated to version 4.14.158
• foris-controller-subordinates-module: limit custom name length
• tvheadend: ensure the first setup works
• libvpx: fix CVE-2019-9232, CVE-2019-9325, CVE-2019-9371, CVE-2019-9433
• git: updated to version 2.16.6, fix CVE-2019-1348,CVE-2019-1349, CVE-2019-1350, CVE-2019-1351, CVE-2019-1352, CVE-2019-1353, CVE-2019-1354 , CVE-2019-1387
Some of you were asking if Turris OS 4.x will be available for Turris 1.0 and Turris 1.1 routers. Those routers were given mostly to Czech people during the research project and we would like to announce experimental support in this release if you are booting from microSD card using BTRFS that you can try it! We hope you will enjoy it and if anything appears, please discuss it in the separate thread, which will be created.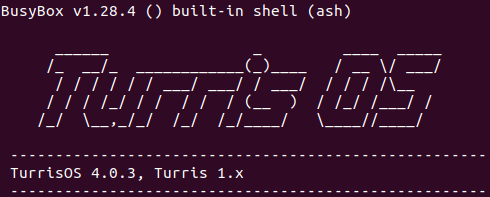 How to have and configure your router from scratch to Turris OS 4.x on Turris 1.x routers?
You need to do five things. First, at all, you need to download medkit from HBS branch and you can check checksum. Then, you will import it to the factory, rollback to factory snapshot and reboot your router.
wget https://repo.turris.cz/hbs/medkit/turris1x-medkit-latest.tar.gz
schnapps import -f turris1x-medkit-*.tar.gz
schnapps rollback factory
And that's not all. We have prepared a christmas package for Turris Omnia and Turris 1.x routers.
You can shine with your router like Christmas tree. More details on how to enable it can be found in community documentation https://wiki.turris.cz/doc/en/public/christmas and if you are interested in source code, let's take a look here.
We wish you a Merry Christmas!