Hello everyone,
I am not sure if a problem like this fits into the scope of this forum but I ran into a very interesting issue for which I do not have a good explanation (at least not yet).
In short, after setting up a new Turris Omnia, I noticed that the DNS resolution tends to work "after a few tries". I was not able to get some more detailed logs but it felt as if it took a couple tries to the DNS cache to get "hot" and afterwards it worked relatively well.
To investigate it further, I tried ping on google.com as well as 1.1.1.1, and was met with the following screen: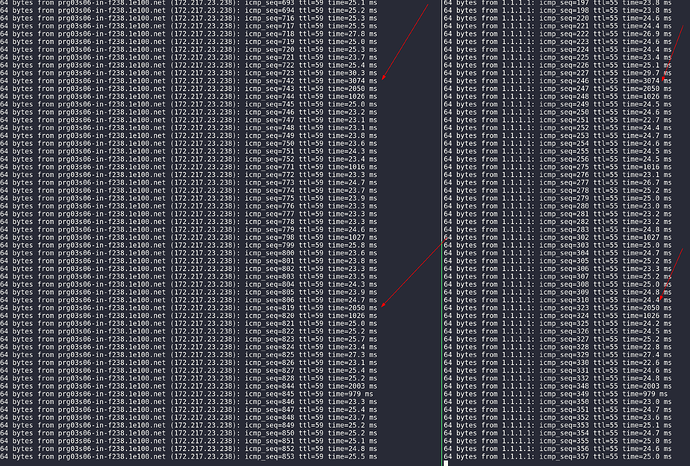 That suggests as if each 10 seconds something specific happened that made the ping take seconds instead of miliseconds, which would then be the case for the subsequent 10-ish requests.
All in all the ping statistics look quite bad – there seems to be roughly 70% packet loss:
2187 packets transmitted, 645 received, +3 errors, 70.5075% packet loss, time 2226049ms
rtt min/avg/max/mdev = 22.611/306.605/3075.038/663.915 ms, pipe 4

Note that the test has been executed from a WiFi connection but the WiFi-router connection should not be a problem: a subsequent test has shown 0% packet loss when pinging just the router address. Hence, it seems the problem is between the router and the internet/my ISP.
Did you run into something similar by any chance? Would you happen to have some advice so as to what I could try to do to mitigate this? Is there a chance this is caused by my ISP/connection beyond the router itself? Although I don't really see why that would be the case, do you think this could be a hardware issue?
Thanks!
---
Firmware Version: TurrisOS 4.0.1 80076f9 / LuCI branch (git-19.281.84184-0b4eebd)
Kernel Version: 4.14.148
I use forwarding to CZ.NIC with DNSSEC turned on.