Hello there:
I wonder if someone can help with the issues that I have been facing with turris omnia wireless range since day 1 (I have it from Indiegogo campaign). I have been unable to configure the this great router to provide a good signal coverage in my house.
I recently updated to the latest 5.1.5 version and updated the router to a 5 antennas configuration removing the signal diplexers (so this can't be the problem, but never was). Here is a image of the router after the mod: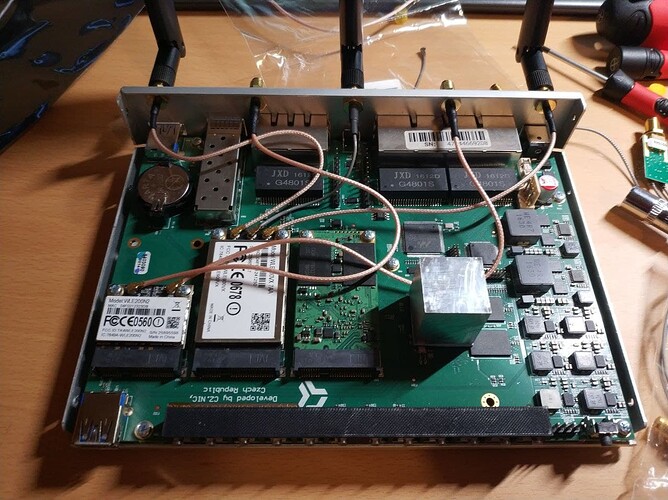 And here is a map of my home (at scale) to summarize the problem: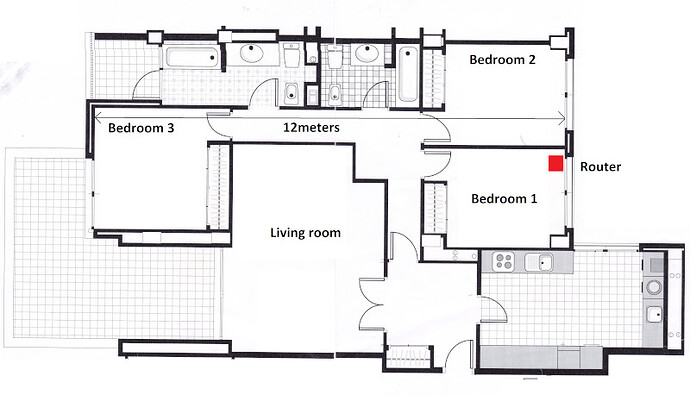 The router is located in the red square. The problem is that I only have a good stable connection from the neighbor bedroom, while in the farther bedroom the connection is very unstable (not able to watch netflix) and in the living room depends on the device (some have an acceptable speed, some not). In the outside terrace the connection is very bad. There is a 12 meter distance between the two bedrooms (as showed in the picture) and in the worst case two doors closed. I know that the location of the router is not optimal, but relocating it is not easy right now.
I don't know if this coverage is normal or not, but other wireless routers provides much better signal across the house. I would like to have good connection at least on the bedroom 3 and I think this is something hardware related. Both cards (2.4Ghz and 5Ghz) works similar in terms of coverage and I tried everything with channels and transmit power (which in previous threads is something that people don't like to talk about even when complies with the local regulations). So, unless I missed something, I assume that the problem is with the stock cards, and I found several posts in the forum of users suffering the same symptoms.
I think that my options are or put another device (access point with better wifi, a plc+extender, etc…) or upgrade the wireless cars with new ones from mikrotik (R11e-2HPnD and R11e-5HacT). I would like to avoid the mess of another device and upgrade the cards but these cards quite expensive here (cost more than 100€ ) and I would like to know if this can improve the situation or even with these cards turris would be unable to provide a good signal for any reason (power, hw design, whatever…). Another drawback of this is not get the new wifi 6 standard but I don't think that we will have a compatible card for the turris soon.
Any comments/suggestions are welcome. thank you!