Dear Turris community,
You have been wondering what we are doing these days.
You can see that we released the last series Turris OS 5.3, on OpenWrt 19.07, there will be a few additional fixups, but thanks to you, some bugs have been discovered, which should not come to the HBS (Stable) branch. At the same time, colleagues are working to bring you new features and fix some bugs. The team responsible for distribution has exciting news to share. Thanks to our workflow since Turris OS 4.0, we can work simultaneously on multiple things and independently.
What does it bring to you guys? Some of you might be using HBD and HBL branches and noticed that there were recently many fixes, and I would say pictures will tell more than a lot.
Here is a list of branches, how it will look in the upcoming days, while we settled down all the animals moving to different places!
OpenWrt 19.07.8 = Turris OS 5.3.*
(

HBK

)
This release is what we are working for you, and we are focusing on right now.
---
OpenWrt 21.02.1 = Turris OS 6.0
(

Will be today or at the latest this weekend in HBL.

)
The latest highlight of this release is that OpenWrt 21.02 will have thanks to @paja available to install RIPE Atlas SW Probe, so it means that anyone who has any router running OpenWrt, he/she can install it and use it! Oh, I should not forget that there will be better-improved network configuration for DSA and VLANs. Check this out: Excellent article on DSA and VLANs in OpenWrt forum
There is used LTS kernel 5.4.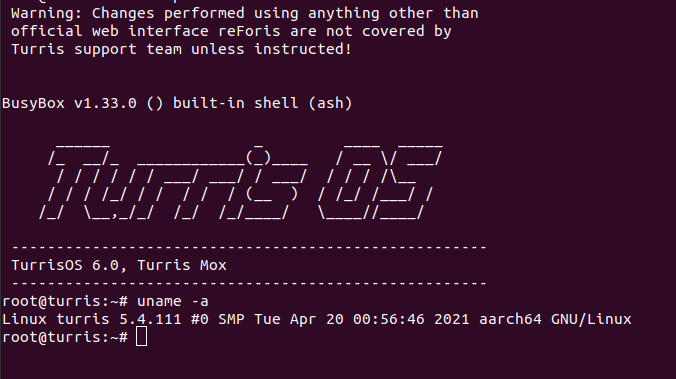 Tested: Turris Omnia, Turris MOX (on the picture)


There are some issues with Turris 1.x. We are looking into it.
OpenWrt daily snapshots = Turris OS 7.0-future
(

HBD)
This branch is slightly different from OpenWrt snapshots as it comes with the usual stuff you are used to. There are preinstalled packages like reForis, LuCI, and so on! However, it can break from time to time, and manual interaction is required.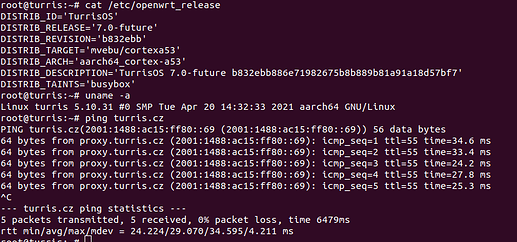 Tested: Turris Omnia, Turris MOX (on the picture), Turris 1.x
---
If you are interested in using any of these branches, don't forget that these are development branches, and some are completely untested and recommended to use by advanced users. For more details about switching branches, take a look here.