Hi,
It looks like I'll have to dive into this topic bit deeper, as just enabling the "Guest Network" in Foris did not work as expected: The Computer connected to "Port 4" (next to the WAN port) is still assigned an IP from the "normal" network. And it can connect to all local computers as well as to the internet.
I expected that Computer to have an IP from the range specified in the guest network settings and be able to connect only to the internet and not even seeing my local computers. Normal network is 192.168.1.1/255.255.255.0 while guest network is 10.111.222.1/255.255.255.0.
Then, I switched to Luci. I think I understand it partially, but some of the options confuse me a lot.
Let's start with the things I think I understand. Please correct me if I got something wrong.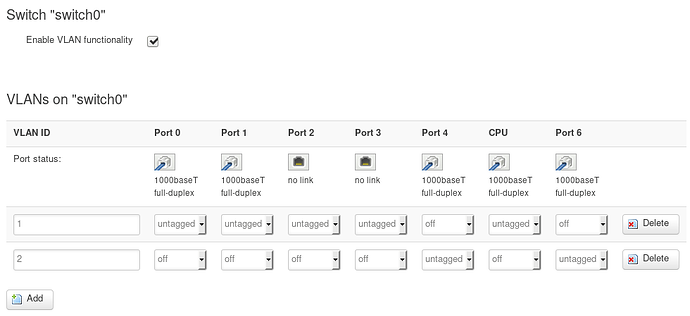 OK, I understand that separation of the networks is done via VLANs, and therefore I need at least 2 of them: one for my "normal" network (VLAN ID 1) and another one for my guest network (VLAN ID 2). These VLANs were set up by Foris and I did not touch these settings so far. The Ports (except CPU) seem to correspond to the physical connectors on the rear side of the box, and Port 6 looks like it's the WAN port.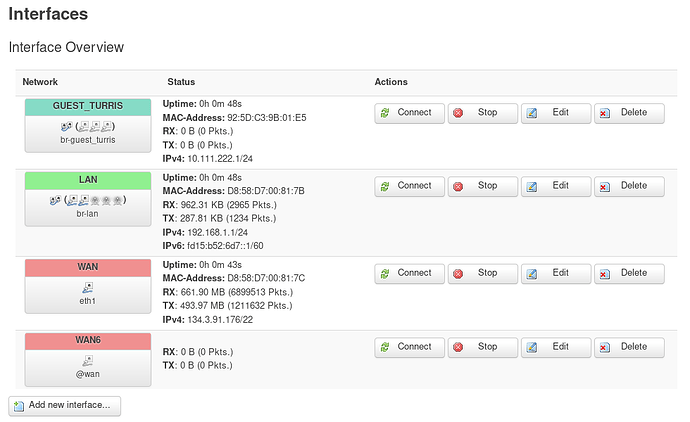 Also appears clear to me … One Interface for every network section.
The things confusing me start here (also did not touch these settings):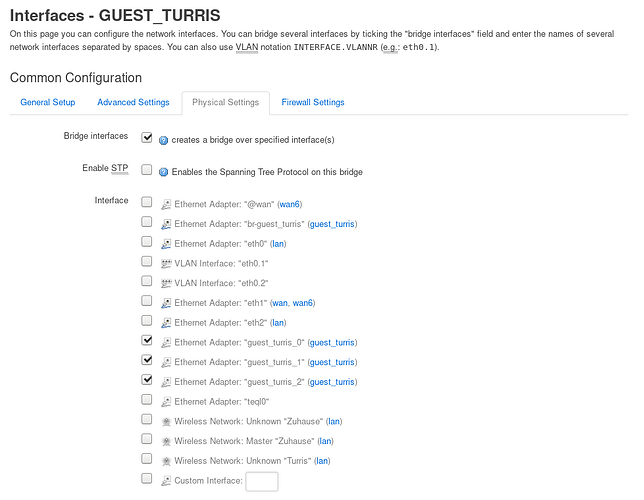 I see a mix of Adapters, Interfaces, and Networks. And the names correspond only partially to stuff configured elsewhere.
E.g. the VLAN Interfaces … is eth0.1 VLAN ID 1 ?
Where do the Ethernet Adapters eth1 and eth2 come from ?
Why are there multiple Adapters with guest_turris in the name (br-guest_turris, guest_turris_0, guest_turris_1, guest_turris_2) ?
Are there different types of Ethernet Adapters (at least, there are different icons, but they could as well be status icons) ?
And finally: What's wrong with my settings ? Why does the Computer that's connected to (physical) Port 4 and configured as DHCP client get an IP of the "normal" network instead of the guest network ?
Thanks and Regards,
Markus