Hi everyone,
I hope to find some help around here even though I am planning a "not-Turris-only" setup. Also - hopefully - this topic may be interesting to others.
Current setup:
Turris Omnia connected through WAN interface (ethernet, not SFP) to modem provided by my ISP
a few devices connected to the LAN ports
Future :
a Cisco CBS250-24P-4G (PoE capable, passive cooling, VLAN capable) switch between the Turris Omnia and many more devices (server, TV, multiple access points, etc.) (switch to be purchased)
LTE failover
Using an LTE modem within the Turris Omnia is not an option, as the Turris Omnia will be placed "elsewhere" and therefore I want to place a LTE modem in a location with good reception and possibly no power outlet.
After a bit of research a Teltonika RUT240 LTE modem appears to be a good option.
Combined with the intention to purchase a PoE switch, I like to also power the LTE modem through the switch.
This is how I imagine the future setup: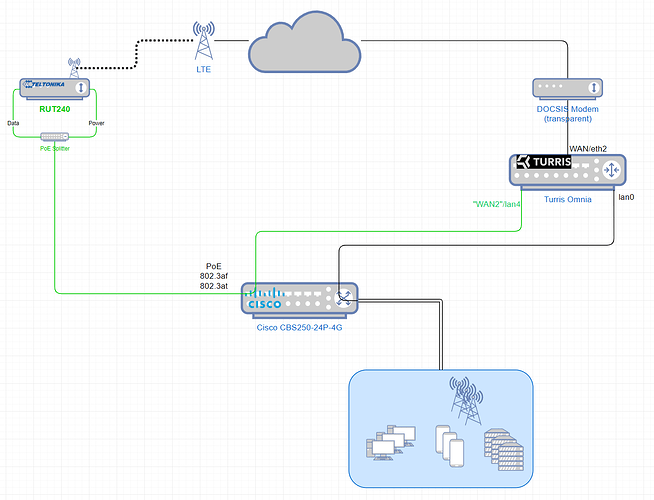 Currently my questions focus on "what to research" for …
Questions:
Is this setup feasible?
Does anyone have experience with the Cisco CBS250-24P-4G and/or Teltonika RUT240?
One LAN port (lan4 in the image) needs to be reassigned to be a WAN interface, correct?
Is mwan3 (https://doc.turris.cz/doc/en/howto/multiwan) the correct tool?
What (e.g. key words) should I research, to enable the connection to/from the modem through the switch (probably I need another VLAN and some sort of routing…)
in short: what to I need.
Notes:
The PoE splitter may not be necessary, not sure yet.
The switch should be connected to the Turris Omnia on lan0 acting as a VLAN trunk port
While in "failover mode" it is ok, if services offered by my network are not available to the outside world.
The key requirement is an (almost) uninterrupted connection from my network to the internet (for work/business purposes)
I also want the Turris Omnia to detect that no connection is available through WAN(1) for n seconds and then tell the LTE modem to establish a connection. One the connection through WAN(1) is available again, the Turris Omnia should tell the LTE modem to disconnect.
Thank you very much in advance!