Hi,
I have two independent networks here, means two hardware routers and all the stuff around. What I would like to achieve is to get rid of the second (Linksys) router and keep everything running on Omnia. My current setup looks like this: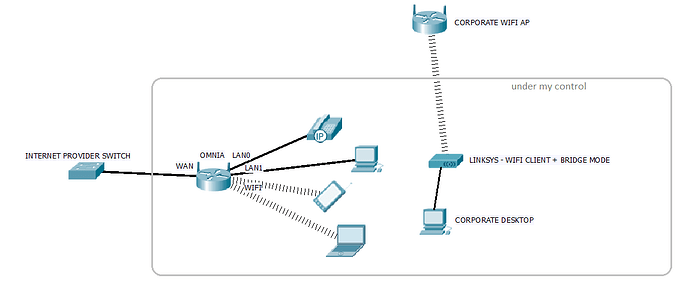 What I want it look like: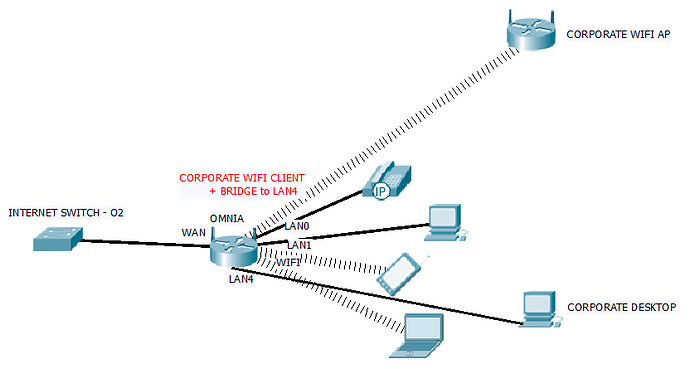 The thing is, I need to keep those two networks (my home network and Corp network) separated, independent, and they
must not reach or interfere
with each other in any way.
I tried to setup Omnia this way:
-starting from default settings
-deleted SSID from radio0 so there is "No network configured on this device" Qualcomm Atheros QCA9880 802.11bgnac (radio0)
-on https://192.168.1.1/cgi-bin/luci/admin/network/network/lan > Physical Settings > withdrawn (uncheck) Ethernet Adapter: "eth2" (lan)
-attached radio0 to Corporate WIFI and created new network "corp"
-on Physical settings of "corp" interface checked "create a bridge over specified interface(s)" and choosen Ethernet Adapter: "eth2" and Wireless Network: Client "corp wifi"
Also tried to create two Interfaces and assign one to Corp WIFI and one to LAN4 and create firewall forwarding.
I expected this would work, but the Corp Desktop was never able to reach Corp AP. The WIFI interface received IP address from Corp WIFI AP, but not so the Corp Desktop.