I'm looking for help with a problem I'm having on my Turris Omnia 2020 (Firmware TurrisOS 5.1.10).
I bought an USB removable disk, (SSD Samsung T7 formatted with ext4), to use as a mount point on the router, I've attached it to the rear USB port of the router, then I've created an LXC-Container based on Ubuntu Focal and installed dnscrypt-proxy2 + pihole on it.
I assigned the ip 192.168.1.50 to the pihole via static lease with lease time "infinite", then I've set this ip as a custom DNS server on the WAN interfaces (WAN and LTE) and as DHCP-Option on the LAN interface:

Everything seems to work perfectly, I'm using cloudflare as DNS server, DoH is active and pihole is working fine.
The problem is that after a few hours the ip of the pihole is no longer reachable and therefore the DNS do not work, the LXC-Container status doesn't change but to reach the pihole ip again I have to restart the container.
I used the router without any problems all last night, this morning as soon as I woke up I had to restart the container because of this problem.
What am I doing wrong? Does the USB device go into sleep mode even though it is an SSD? HDD-Idle service is disabled.
I've removed knot-resolver (kresd) to avoid conflicts, I don't know if this has anything to do with it.
Can you help me?
dnscrypt-proxy configuration:
server_names = ['cloudflare']
listen_addresses = ['127.0.0.1:5350']
max_clients = 250
ipv4_servers = true
ipv6_servers = false
dnscrypt_servers = true
doh_servers = true
require_dnssec = true
require_nolog = true
require_nofilter = true
disabled_server_names = []
force_tcp = false
...

pihole configuration: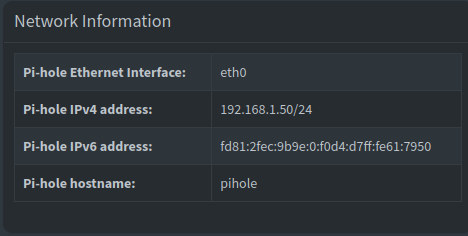 pihole DHCP server
disabled
Static lease

Mount point

LXC-Container configuration

# Template used to create this container: /usr/share/lxc/templates/lxc-download
# Parameters passed to the template: --dist Ubuntu --release Focal --arch armv7l --server repo.turris.cz/lxc --no-validate
# For additional config options, please look at lxc.container.conf(5)

# Uncomment the following line to support nesting containers:
#lxc.include = /usr/share/lxc/config/nesting.conf
# (Be aware this has security implications)

# Some workarounds
# Template to generate fixed MAC address

# Distribution configuration
lxc.arch = armv7l

# Container specific configuration
lxc.include = /usr/share/lxc/config/common.conf
lxc.hook.start-host = /usr/share/lxc/hooks/systemd-workaround
lxc.rootfs.path = btrfs:/srv/lxc/pihole/rootfs
lxc.uts.name = pihole
lxc.start.auto = 1
lxc.start.delay = 1

# Network configuration
lxc.net.0.type = veth
lxc.net.0.link = br-lan
lxc.net.0.flags = up
lxc.net.0.name = eth0
lxc.net.0.hwaddr = f2:d4:d7:61:79:50
lxc.net.0.ipv4.address = 192.168.1.50/24
lxc.net.0.ipv4.gateway = 192.168.1.1

dnscrypt-proxy service status

pihole status