Hello people,
I have since 2 weeks the Turris Omnia, and this forum was really helpful with Vlan-Tagging etc.
My configuration:
Turris Omnia 2018
TurrisOS 5.1.4
Kernel: 4.14.206
SPF: Universal 1G SFP Wide BiDi LX LC-Simplex 10km, ᵀˣ1310 / ᴿˣ1460-1580 nm, Singlemode, 125Mbit/s - 1.25Gbit/s (Flexoptix)
Connected directly to the OTO via 3m fiber patch cable (ITU-T G.657.A1)
ISP: Init7 with Hybrid 7 1Gb/s synchron
Windows 10 PC with Cat6 patch cable.
It works Ok for me, but there are some things I don`t understand.
Using NetMetr with Forris will get Download 330Mb/s and Upload 910Mb/s
Speedtest.net will get max. Download at around 300 to 550Mb/s and Upload 600 to 750Mb/s (With Firefox, Opera, Chrome and Edge)
Iperf3 shows similar speeds.
I tried on 3 different devices (Windows 10), all with Cat6 and Cat5e patch cable and deactivated firewall.
On the Turris Omnia, I deactivated the adblock and QoS, removed the monitoring packages (pakon, suricata, etc.
Still not reaching the 900Mb/s not matter what.
Maybe important:
The CPU load goes up to 100% while upload.
While making a speedtest, the luci real time diagram shows some really high peak bandwith > 1Gbit/s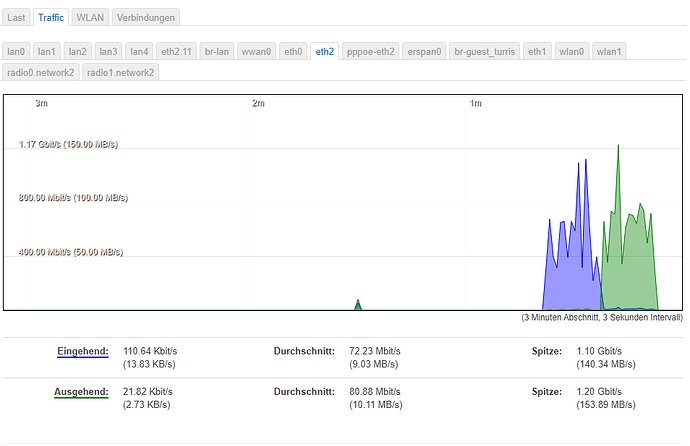 Is there something I´m missing or is there some tweaking necessary for gigabit speeds?
Should my ISP change something to improve things?
Thank you in advance!
Cheers,
vulgogurktaler