Hello,
on foris web interface there is no way of understanding what "Wifi 1" and "Wifi 2" means.
Shouldn't it be easier to guess which one of the 2 is the SDIO card? That's because its performance are not as good as the other one right?
From luci I guess that "Wifi 1" is the mpcie card, while "Wifi 2" is the SDIO one, correct?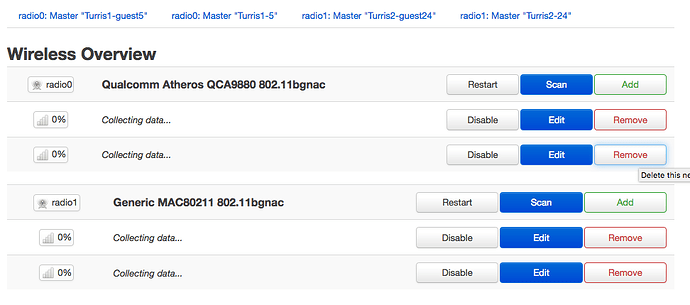 Please note that on the wiki page for upgrades the naming of the cards is quite different than what we can see on foris:
mPCIe Wi-Fi card for Turris MOX B:
Compex WLE900VX -> on this page I can see that it contains a "Qualcomm-Atheros QCA9880" chip, that matches the radio0 in luci, which is "Wifi 1" on foris.
Do you think you could update the cards name to make it easier to distinguish them? thanks