After service intervention my Omnia in CZ. NIC, I've started setup the clean installation up and running.
1 - in Foris DHCP, I set the possible maximum of assigned IP addresses to 25. Next, I set up 20 fixed MAC-bound addresses in Luci. Subsequently, I reduced the maximum address allocation to 20, and my fixed IP settings disappeared with the exception of 2 IP addresses, despite the fact that I always confirmed the Save&Apply button about inserting two new records. I had to re-enter the fixed IP settings.
Other installations:
2 - Pakon and Netdata without any problem
3- Netmeter and AdBlock (God may be thankful)
4 - just enabling the statistics support package in reForis somehow is enough to run charts in Luci - it is necessary in Luci-Startup enable and Start module luci_statistics (but the searching and thinking) - Over time, it will replenish the graph of temperature.
5 - I enabled haas (I added a token to the /etc/config/haas file). Port 22 is open - in the statistics https://haas.nic.cz/devices/ appeared practice my first SSH login to haas … everything's fine.
6a - although I have enabled data collection - there are no open related ports 23, 80, 2323, 3128, 8080, 8123 at public IP address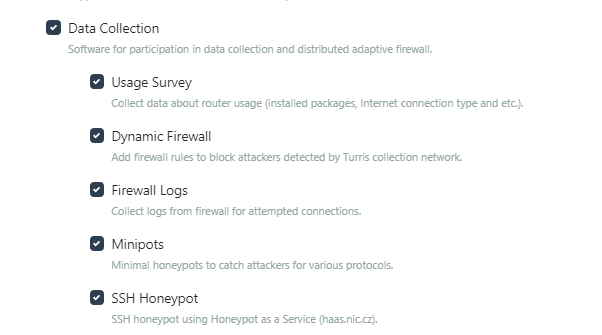 6b - at the address https://project.turris.cz/cs/data/ I unregistered old instance of the router and I am somehow lost how to register it again. How do you do that? Some registration code is needed, and Uncle Google hasn't told me how to get it yet. So I don't even know if I'm sending data

===
Then there are some little things like LED brightness according to the time of day and LED signaling of internet connection failures by checking the availability of gateways, DNS servers and internet IP addresses