Finally AsiaRF has AX modules on stock ready and they are shipping.
I will only believe this after I got our shipping confirmation

Yeahh, i recieved FedEx tracking number already.
I hope you will try them as soon as possible and give us a little tutorial how to make them work

Can you tell if they get hot during heavy load and if the drivers (which ones are needed?) are stable by now?

Yes its getting quite hot, i have heatsinks on it.
Before installation i installed kmod-mt7915e package, was detected without issues.
At this moment it looks it works, i had to manually update wireless config file (remove previous cards settings) and configure wifi again. I also removed guest-wifi configuration as it somehow remained partly and made errors in the log.
For stability its a bit early now, as it runs only few hours now, but i am connected and alive, so far so good.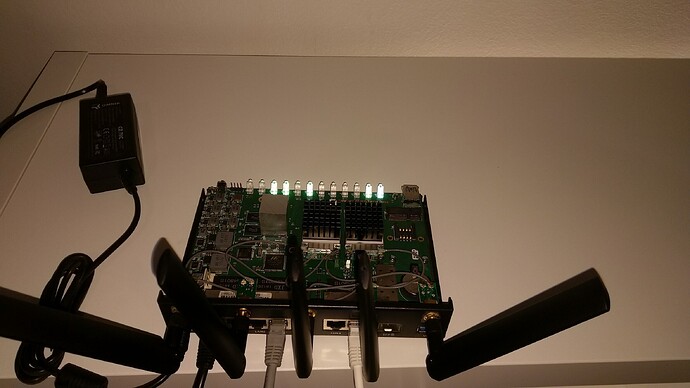 most attractive router i've ever seen…
Great! What are the dimensions of your heatsinks?
Thank you for advice, I just ordered 2 of the heatsinks. Do you run Omnia on TOS 6 or TOS 5.3 ?
I have 2 Omnias, both on TOS6 HBD at this moment. I guess, on 5.* there are no drivers available and will not be.
Just small update, after few days of tests:
use 2 cards - 1st for AX 5 GHz tests, 2nd for N 2.4GHz tests
there are still a bit problems with stability
for 5 GHz i finally found probably optimal settings, where performance is highest of my tests
anyway for such setting the range is really lower then original AC, it works reliably only in same room, but i have expected that
for 2.4 GHz - this unfortunately looks less stable then 5GHz, i did not find the way how to make it optimal till now. Range is lower then on original N card of Omnia
over night, when no traffic looks like in the morning some devices cannot connect back to 2.4GHz (does not see it), looks really strange as i then just go closer with mobile and try to reconnect and then it starts to operate somehow again
So thats just brief for now. I work on AX daily with no bigger problems (HP laptop with Intel AX200), but overall it looks reallly experimental this AX card + TOS6 HBD


But the settings you use for 2,4 GHz are not AX, but N, right?
Did you only test 160 MHz or also 80 MHz?
Hi,
yes 2,4 GHz i use as normal N standard, for other devices, i am not sure, if i can use AX on 2.4 GHz for older devices, i did not try.
On 5GHz i tried also 80 first as well, i did not find difference in behavior, so i guess 160 works same like 80 in matter of stability. I just realized, that with manuall channel 100 it enables txpower up until 26dBm (lower channels up until 20dBm). But it did not make any better performance, but worse. 1 meter next to router a have around 109 MB/s, in my office desk i have cca 80 MB/s max. But only in one direction, if i copy in oposite direction, speed is lower for whatever reason.
Intel AX201/211 only has 23 dBm maximum transmit power, so any value above that doesn't make any sense in your environment. But if you take into account also the other devices like tablet/smartphones, any values above 17-18 dBm will be bad for Wi-Fi stability with those devices (they will see the SSID but not be able to establish a stable connection to it when they are too far away from the antennas - but this applies to all Wi-Fi generations, not only 802.11ax).
Another update, i did some mistakes during installation, which did problems with wifi signal, what i had to correct:
on 2.4GHz has to be configured card in slot closest to CPU (as original N 2.4GHz card)
on 5GHz has to be configured card in middle slot (as original AC 5GHz card)
i also connected 5GHz running card to the left pigtail on diplexers and 2.4GHz running card to the right pigtail on diplexers (as was originally)
I did not know, that this might make any difference, but is probably really important. Now signal is at least as strong as with original wifi cards.